Professor Dr. Reinhard Klette
FRSNZ
Auckland University of Technology
School of Engineering
EEE Department
Email: rklette at aut dot ac dot nz
Phone: (09) 921 9999 extension 6743
---
TEACHING AND RESEARCH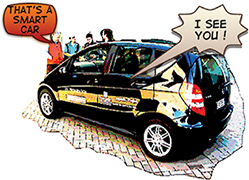 ---



Academic ancestors
Erdos number 2
Book covers
Member of the Korea Institute of Information and Communication Engineering (KIICE), Busan, South Korea
Member of the Institute for Mathematics and its Applications (IMA), Minneapolis, USA
---

---
WEBSITES



.enpeda.. Image Sequence Analysis Test Site
BOOK [Li and Klette. Euclidean Shortest Paths. 2011]
BOOK [Huang, Klette, and Scheibe. Panoramic Imaging. 2008]
BOOK [Klette and Rosenfeld. Digital Geometry. 2004]
---
COPIES OF KEYNOTES or PLENARY TALKS (WITHOUT ANIMATIONS)
31. Monocular Computer Vision for Driver Assistance.
Keynote at IVCNZ, Hamilton, November 2014, New Zealand
30. Current Advances in Vision-based Driver Assistance.
Keynote at ICCVG, Warsaw, September 2014, Poland
29. The Big Data Challenge in Vision-Based Driver Assistant Systems.
Keynote at ICM, Data Sciences, Dalian, July 2014, China
28. Monocular Computer Vision for Driver Assistance.
Invited talk at International Symposium on Intelligent Transportation Systems Research, Auckland, May 2014, New Zealand
27. 3D Streetside Reconstruction from a Car
Keynote at IEEE Intelligent Vehicle Symposium, Goldcoast, June 2013, Australia
26. Stereo and Motion Analysis
Invited talk at ICARCV, Guangzhou, December 2012, China
25. Six Topics on Mobile Vision
Invited talk (co-authored by Gabriel Hartmann, Simon Hermann, Sandino Morales, Yi Zeng, and Hongmou Zhang) at ACCV workshop, Daejeon, November 2012, Korea
24. Computer Vision for Road Safety
Opening keynote (co-authored by Simon Hermann, Sandino Morales, Mahdi Rezaei, and Konstantin Schauwecker) at ICETCE, Lushan, April 22-24, 2011, China
23. Large-Scale Imaging – From Remote Sensing to Close Range
Opening keynote (co-authored by Anko Boerner and Fay Huang) at ICEICE, Wuhan, April 15-17, 2011, China
22. Progress and Challenges in Vision-Based Driver Assistant Systems
Keynote at IVCNZ, Queenstown, 2010, New Zealand
21. Current Challenges in Vision-Based Driver Assistant Systems
Keynote at IWCIA, Playa del Carmen, November 24-27, 2009, Mexico
20. Panoramic and 3D Computer Vision
Keynote at International Conference on Arts and Technology, 24-25 September 2009, Yi-Lan, Taiwan
19. Stereo and Motion Analysis of Long Stereo Image Sequences for Vision-Based Driver Assistance
Invited Speaker at DAGM 2009, 9-11 September 2009, Jena University, Germany
18. Discrete Driver Assistance
Keynote at International Symposium on Mathematical Morphology, 24-27 August 2009, Groningen University, The Netherlands
17. Stereo-Vision-Based Driver Assistance – Predict Situations and Automatically Adapt to Traffic –
Keynote at Australasian Joint Conference on Artificial Intelligence, 3-5 December 2008, Auckland, New Zealand
16. Stereo Analysis for Driver Assistance Systems
Invited talk at ICONIP, 25-28 November 2008, Auckland, New Zealand
15. Evaluation of Stereo and Motion Techniques on Rectified Stereo Image Sequences
Invited talk at Statistical and Geometrical Approaches to Visual Motion Analysis, Dagstuhl, Germany, July 13-18, 2008
14. Panoramic Imaging: Theory and Applications
Keynote (co-authored by Fay Huang and Karsten Scheibe)
II Congreso Internacional en Expresión Gráfica en Ingeniería y Arquitectura, November 7 – 9, Cordoba, Argentina

EXAMPLE of astrocytes (in human brain tissue) and an abstract junction of voxels (by Gisela Klette)
13. Theory of Digital Manifolds and its Application to Medical Imaging
Invited Talk (co-authored by Valentin Brimkov, Gisela Klette, and Reneta Barneva)
VIP Image, October 17-19, 2007, Porto, Portugal

EXAMPLE of a projected surface curvature map, head of Michelangelo's David statue (by John Rugis)
12. Surface Curvature Extraction for 3D Image Analysis or Surface Rendering
Invited Talk (co-authored by John Rugis)
MIRU 2007, July 30 – August 1, Hiroshima, Japan
11. Rubberband Algorithms for Solving Various 2D or 3D Shortest Path Problems
Plenary Talk of Track I (co-authored by Fajie Li)
Int. Conf. Computing – Theory and Applications
Platinum Jubilee of the Indian Statistical Institute (ISI), Kolkata, India, March 5-7, 2007
10. Challenges of Wireless Digital Video – A Computer Vision Perspective
Keynote (with contributions by Ji Sun, Stefan Gehrig et al., Chris Croft and Paul Dewar, and Felix Woelk et al.)
2nd Int. IEEE Conference on Wireless Communications, Networking, and Mobile Computing
Wuhan, China on September 22-24, 2006
9. Combinations of Range Data and Panoramic Images – New Opportunities in 3D Scene Modeling –
Opening Keynote (co-authored by K. Scheibe)
Int. IEEE Conference on Computer Graphics, Imaging and Vision
Beijing, China on July 26 – 29, 2005
8. Modeling 3D Scenes: Paradigm Shifts in Photogrammetry, Remote Sensing and Computer Vision
Keynote (co-authored by R. Reulke)
Int. IEEE Conference on Systems and Signals (ICSS)
Kaohsiung, Taiwan on April 28-29, 2005 (see also CITR-TR-155)

EXAMPLE of a (low resolution) anaglyph panorama, throne room in castle Neuschwanstein (by Karsten Scheibe)
7. Stereo Imaging with Rotating Line Cameras
Invited talk [co-authored by F. Huang and S.-K. Wei (Taiwan)]
12th Workshop "Theoretical Foundations of Computer Vision" on "Imaging Beyond the Pinhole Camera"
June 2004, Dagstuhl/Germany
6. Combinatorics on Adjacency Graphs and Incidence Pseudographs
Invited talk, 9th Int. Workshop on "Parallel and Combinatorial Image Analysis"
May 2003, Palermo/Italy
5. Digital Topology for Multi-Level Images (pdf file, 1895K)
Invited talk, "Topology Workshop at CUNY"
23 March 2002, New York City/U.S.A. see: CITR-TR 101
4. Digital Geometry (pdf file, 805K)
Keynote talk, 6th "Joint Conference on Information Sciences"
11 March 2002, Durham, North Carolina/U.S.A.
3. Digital Straightness (pdf file, 532K)
Opening plenary talk, 8th "Int. Workshop on Combinatorial Image Analysis"
23 August 2001, Philadelphia/U.S.A.
see: A. Rosenfeld, R. Klette: Digital Straightness.
Electronic Notes in Theoretical Computer Science 46 (2001),
URL: http://www.elsevier.nl/locate/entcs/volume46.html, 32 pages
2. Wide-Angle Image Acquisition, Analysis and Visualisation (pdf file, 4915K)
Plenary talk, Int. Conference "Vision Interface 2001″
8 June 2001, Ottawa/Canada
see: R. Klette, G. Gimel'farb, R. Reulke: Wide-angle image acquisition, analysis and visualization.
Proc. 14th Internat. Conf. "Vision Interface" (VI'2001), Ottawa, Canada, June 2001, 114-125.
1. Digital Geometry – The Birth of a new Discipline (pdf file, 553K)
Opening plenary talk, Workshop on "Computer Vision and Image Analysis To Commemorate Azriel Rosenfeld's Career"
7 June 2001, University of Maryland at College Park/U.S.A.
see: R. Klette: Digital geometry – The birth of a new discipline.
Foundations of Image Understanding (L. S. Davis, ed), Kluwer, Amsterdam (2001) 33-71.
---
Copyright for material on this website (if not otherwise specified): Reinhard Klette